Patron God:
Kernunnos
"STONE GLADE IN DARK WOOD
PINE BRANCH IN WATCHERS HAND,
SMOKE OF IRON CALLS FORTH THE FOREST GUARDIAN.
HEAR THE FLIGHT OF WINTER GEESE,
THE RUNNING OF THE WOODLAND HOST!
HEAR THE CLASH OF BRAVE ANTLERS
IN THE NAME OF THE LORD OF ANIMALS!
HEAR THE BREATHING OF THE GOD, RAMPANT AND FERTILE,
HEAR THE FOOTFALLS OF THE ANTLERED ONE.
HEAR KERNUNNOS ENTER STONE GLADE IN DARK WOOD!"
-Excerpt from The lost Books of Merlyn
Douglas Monroe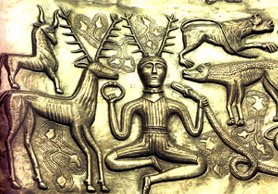 Kernunnos, The Horned God, Celtic father of animals, Patron God of Druidism. Kernunnos is representative of the male aspect of union with the Earth. Shamanic priesthoods, those whom have a patriarchal base, hold Kernunnos in special reverence. His stag, a companion friend, is an archetype of mature, masculine energies, that lay in balance with the natural world around us. Often he is depicted in a meditative stance, in attunement with nature, Kernunnos guides us to seek rebalance from dominating conditions. Perfect stability leads to perfect stagnation. Most engravings of him depict a torc about his neck, showing his commitment to nature and the earth. With his right hand, Kernunnos gifts the followers with the Torc of initiation. His left hand controls a ram-headed serpent [snake]. The serpent is a representation of the male sexual power and vitality, reminding us to always maintain control of our desires. Kernunnos is known by many names and faces: Kern the Mighty, The Horned One, The Antlered One, Herne the Hunter, Lord of animals, The Stag King, and The Winter Lord. Kernunnos is very elusive, and if often known as "He who hides behind Tree's" or "He who is both hunter and hunted". The Favored tree of Kernunnos is Pine, and it is said that he resides within the depths of every forest. To develop a personal Relationship with Kernunnos takes both time and patience, but is ultimately fulfilling.